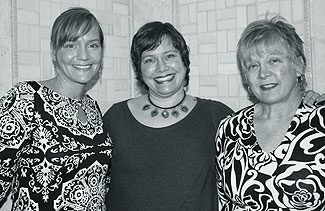 Elizabeth Wyman
Elizabeth (Beth) Wyman is a Jersey Shore Local who attended Brookdale College for Interior Design. Ever since joining her family business back in the mid 90's her knowledge of the business has evolved to allow her to really understand the design to build aspect of this industry. Beth first started out running the Fabrication Shop for 10 years and after deciding she didn't want to get so dusty every day, she moved into the Showroom. Her time spent in the shop has given her much knowledge on the process of fabricating stone & quartz. However, with a great love for well-designed tiled spaces, Beth enjoys helping clients find the perfect combinations of materials to fit in with their style and budget. Currently Beth is taking on a build of her own in the beautiful Catskill mountains. It will be a mid-size modern design amongst the trees and perfectly situated by a running brook. Beth also enjoys hiking, exploring small towns on her many travels or just lying low at home with her cat Levi.
Michele Wyman
Michele Wyman considers herself one lucky person. A free spirit who has roamed the planet, studied art and design at random times and places, and lucky enough to have a family business where she can bring all her knowledge and inspiration together. She has been designing kitchens and baths, and running a showroom for fifteen years now. A lover of design, color, and people, Michele is skilled at bringing function and style together, of giving each client results based on their individual taste and needs. She looks at design as a discovery of self, or "interior therapy" as she calls it.
Michele lives in Colts Neck where she and her two teen daughters spend much time in their craft room and caring for their 2 dogs, 2 cats, 2 guinea pigs.
Andrea Wyman
A true matriarch of the local tile industry, Andrea started AW Eurostyle thirty years ago when there were just a handful of local tile retailers. Having left her employment in the casino's of Atlantic City, this entrepreneurial firecracker headed out on a journey to fulfill her dreams of owning her own business.
Andrea believes "personalized service, knowledgeable staff, and just basically a true and intrinsic love of design" is what has set AW Eurostyle apart from others. With the help of her two daughters, Michele and Beth, "We have become so much more than just tile, and people can see that after just one visit".
Having moved out of Monmouth Beach after Sandy, Andrea now resides in her beautiful home in the woods of Colts Neck. She enjoys spending time in her garden, watching the wildlife that comes to visit, and dreaming of her next project!